"I am a Judoka and just relocated to Dubai" "What should I do about my child's sports lesson?" "I would like to start judo again which I used to do in the past" and "I want my children to know Japanese culture even though I live abroad."
For those people above, are you interested in Kodokan Judo?, today I would like to let you know a judo gym "OlympX Martial Arts", a place where you can practice Judo in Dubai, United Arab Emirates.
What is Judo?
What do you think of when you hear the word "Judo"? Martial arts? A sport? Like Japanese Karate?
Judo was created in Japan and is now one of the world's favorite Olympic sports. Judo also has many aspects beyond the field of sports.
Judo is a sport, a martial art, and a traditional Japanese culture. Judo, which is said to "begin with a bow and end with a bow," is a very popular sport for children to learn in France, Brazil and, of course, Japan because of its emphasis on civility and its effectiveness in training the body and mind. Judo is also included as part of physical education classes in some Japanese secondary schools, although it is optional, and is considered to be good from an educational perspective.
Some people often confuse Judo with Karate, but unlike Karate, Judo bans punches and kicks. Instead, in judo, "Beautiful throws" and "pins down on the ground" are used to determine the winner.
OlympX Martial Arts
Japanese judo coach
The dojo here is the only one judo club in Dubai with Japanese sensei (Kodokan 4th Dan Black Belt) as of April 2022.
Japan is one of the strongest countries in judo. Specially, Kodokan in Japan is the best judo club all over the world.
Atmosphere of the Dojo (Judo gym)
Since Dubai is a multinational land, the people who attend the classes come from all over the world and are diverse. They range from complete beginners who started judo in Dubai to those who have competed as their national representatives in their own countries.
It is a great place for international exchange. Instruction is provided in simple English, so even those who do not speak English at all can feel comfortable.
Below is a social networking site run by the Judo club, where you can see many photos on Instagram.
Instagram : Professional Judo Dojo Dubai
Facebook : MA Academy UAE
Age Range and Classes
This dojo allows students starting at age 4 to join, and adults can join up to any age.
Kids class (4~8 years old)
Teens class (9~13 years old)
Adults class (13~ any age) *currently the oldest around 40 Y.O.
Kids class (4~8 years old)
Teens class (9~13 years old)
Adults class (13~ any age)
Schedule
Currently, Dubai, being a Muslim country, is in the month of Ramadan, so the training is scheduled a little differently than usual.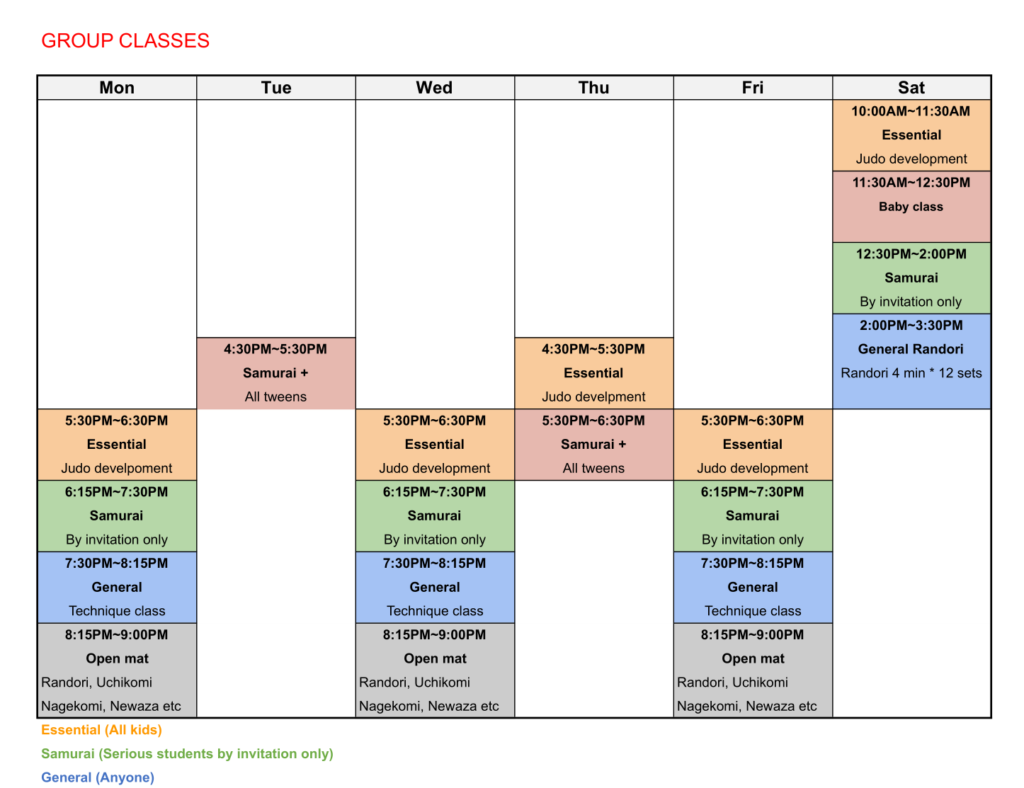 Contact to the dojo
Judo gym location and address
Address: Kia Flagship Office G31 – Al Quoz – Al Quoz 1 – Dubai – United Arab Emirates
If you are going by car, it is easy to reach as it is located along Sheikh Zayed Road, a highway in Dubai.
How to change from a Japanese car license to Dubai local's (Japanese)
※At Al Safa, there is a different bus, "21 Al Quoz Ind'l Area 4," even though it is the same No. 21 bus.
Google Maps
Telephone number and emai address
TEL: +971506919722
Email: info@olympx.ae
OlympX Class Photo Gallery
Learn more about Judo